Buying time: BP's sideways approach to the energy transition
The oil major stepped up efforts to fulfil its net-zero carbon ambitions last week, but has delayed a true reckoning with its climate-related risks
Want Climate Risk Review in your inbox every Monday and Friday? Then please consider subscribing:
**Special offer**: Friends of the newsletter Narrowcast Media are offering readers of Climate Risk Review 25% off the price of their next event, 'Managing & Reporting Climate Risk' on Thursday June 25. Click here to sign up.
---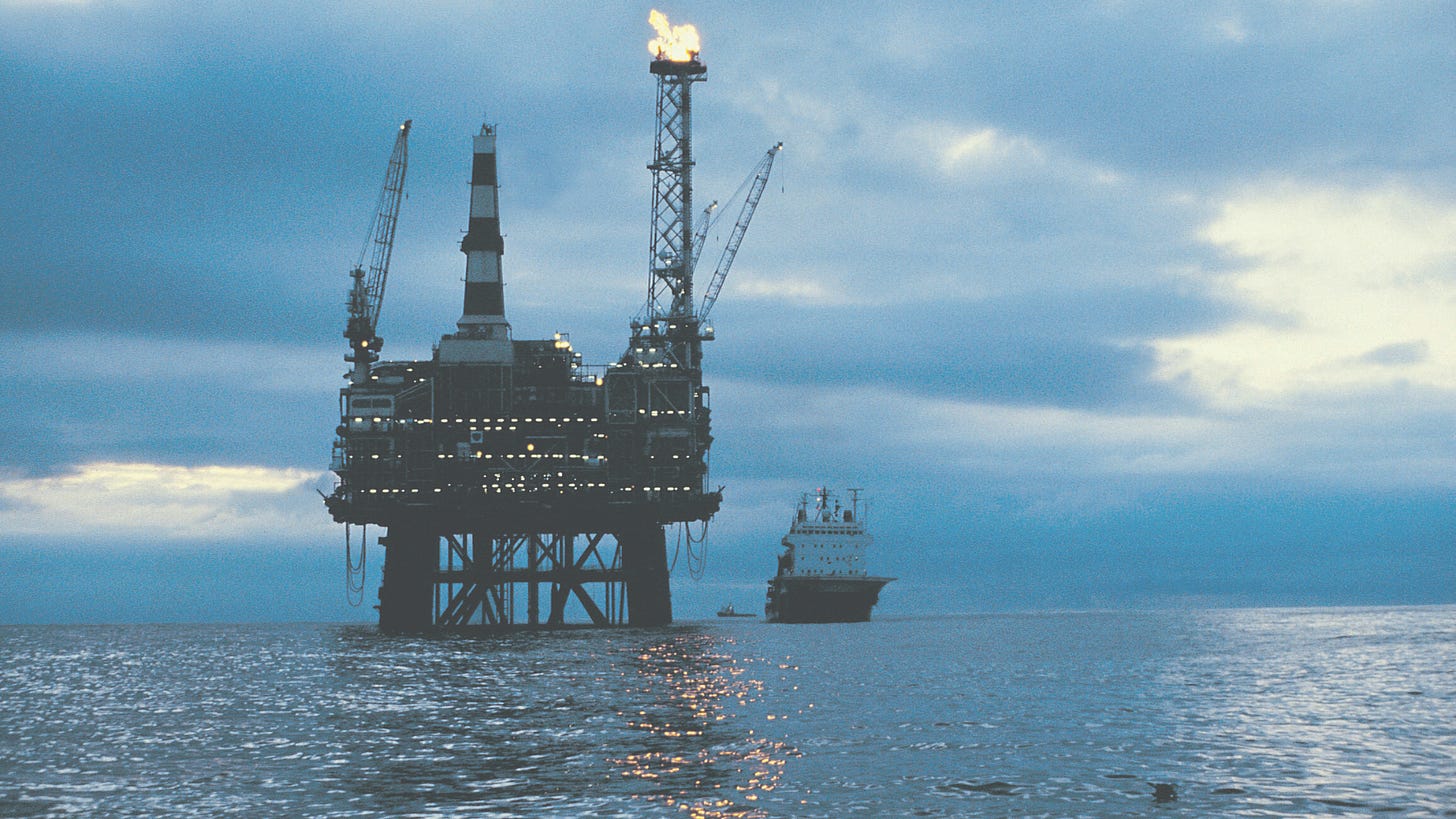 Talk about having your cake and eating it. Last week, oil major BP pulled a series of manoeuvres that showed it was serious about climate-related transition risk — but also pushed the true costs of confronting these into the future.
First, on June 15, BP announced it would take an impairment charge of up to $17.5 billion in its second quarter earnings. The mammoth write-down reflects a downgrade to the firm's long-term price forecasts for fossil fuels, in order to align them with its ambition to become a net-zero carbon company by 2050.
The updated assumptions are said to be "broadly in line with a range of transition paths consistent with the Paris climate goals" and, because they are around 28-29% lower than those used previously to weigh capital expenditures, will render a swathe of its unexploited hydrocarbon reserves functionally 'stranded' while strangling the expected future cashflows of its existing operations.
Over time, BP estimates $8-11 billion of impairment charges to property, plant and equipment — about 8% of their end-2019 value — and $8-10 billion of write-offs to unexplored oil and gas assets, a whopping 71% of their total.
Yet just two days after the announcement, BP successfully sold $12 billion of so-called "perpetual" capital: long-term funding that never has to be repaid in full. This was the first time the oil major had sold this kind of debt to boot.
On the face of it, this seems...odd. BP announces a huge chunk of its assets are worth a lot less than previously estimated and yet investors flock to buy more of its debt? What gives?
The joy of (perpetual) debt
The devil, as always, is in the detail.
Key to understanding BP's and its investors' decisions is the way in which perpetual debt is treated on an accounting basis.
Put simply, with these kinds of bonds BP can treat the proceeds as equity rather than debt — since the principal never has to be repaid in full. This means the $12 billion sale will have a muted affect on the firm's leverage, also known as its "gearing ratio", making its balance sheet look healthier than it otherwise would.
Gearing is worth digging into in more detail. The higher the ratio, the larger a firm's net debt relative to its equity. This matters to debt investors, as equity capital acts as a cushion that protects them from losses. The thinner this buffer, the greater the credit risk.
BP already has the highest gearing ratio among its peer group, and the impairment charge would have caused it to spiral even higher. That's because the asset write-downs would lower shareholders' equity, to the tune of some 19%, all things being equal. This would have pushed the gearing ratio to over 40% from 36.2% at end-March, well above the firm's own 20-30% target.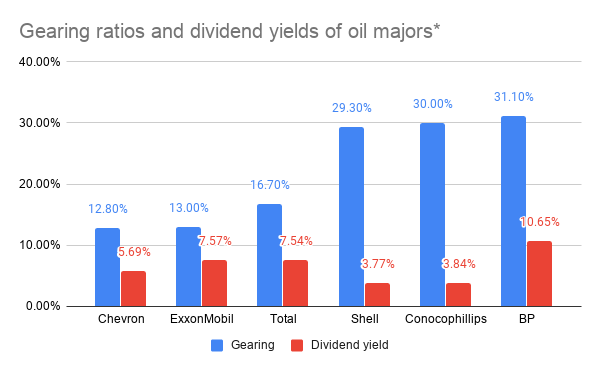 *Gearing ratios as of December 2019; dividend yields as of June 22, 2020
A "traditional" debt offering would have lifted the gearing ratio even higher, making BP look shaky. Investors in safe, staid credits may have shirked a senior bond issuance in these circumstances. So instead, BP targeted a different class of investors, those that favour the equity-like characteristics of perpetuals.
One especially attractive feature of these instruments is their yield. Because the principal never has to be repaid, BP has to pay investors more than it would for "normal" senior bonds. One $2.5 billion slug of the dollar-denominated perpetual debt will pay 4.4% over the first five years before reverting to a lower rate linked to US Treasury securities. Another $2.5 billion will pay 4.9% for 10 years.
Compare that to the 2.8% rate paid on $1 billion of senior secured notes sold by BP last May. With rates the world over at rock bottom because of the coronavirus-induced economic crisis, the coupons on these perpetual notes can't help but be tempting.
The bond issuance also serves the interests of BP's equity holders, which may have encouraged institutions that hold both its stock and bonds to get involved in the sale.
In recent years, the firm has established its stock as a favourite among dividend-seeking investors. It returned a 6.9% dividend yield last year alone and maintained its 10.5 cent per share amount through the first quarter, even as the coronavirus crisis hammered its bottom line.
The perpetual bond sale could help BP maintain this dividend for a further six quarters, keeping equity investors from dumping the stock. Those institutions invested in both stocks and bonds may have considered the latest issuance a win-win: both in terms of the high coupon paid on the debt and its help supporting the dividend.
Alternatively, those institutions holding the stock as a dividend-yield play, and fearing the music is about to stop, may have seen the perpetual bonds as an effective substitute. After all, what's the qualitative difference between equity with debt-like qualities and debt with equity-like qualities?
Shifting or stalling?
If the asset write-down was the bitter medicine BP had to take in the name of climate-related risk management, then the perpetual bond issue was the sugar that helped it go down.
It was a canny way to avoid a disorderly transition scenario. Without the sale, BP's leverage would have climbed to eyebrow-raising levels, spooking creditors, and equity holders may have concluded the dividend was toast, sparking an exodus.
In making its first foray into perpetual debt, BP is also following the example set by the renewable energy firms it aspires to emulate.
Charlie Donovan, executive director of the Centre for Climate Finance and Investment at Imperial College London, says BP is "positioning itself in the image of clean energy majors, like Ørsted." The Danish energy firm, which traffics solely in renewable energy, has issued so-called "green hybrid capital" for over seven years as way of diversifying and strengthening its balance sheet.
Still, one can also argue that BP is simply deferring the pain of an energy transition. Through the perpetual bond sale, it's bought itself time to sell off (or squeeze additional profits from) carbon-intensive assets and retire old debts. It's also delayed its equity investors' their reckoning — though it should be clear to all that BP's high dividend days are numbered.
Yes, the bumper coupons paid on the perpetual debt are a real burden, and will cost BP about $480 million a year. Still, it will have the opportunity to redeem at least some chunk of these in five years and replace them with lower-yielding senior debt once its gearing ratio is put into order.
If BP had wanted to make a truly bold statement of its ambitions, it could have tied the new perpetual funding to explicitly "green" projects. The proceeds of last week's debt sale will instead go towards "general corporate purposes", meaning BP is free to use its $12 billion to buoy dividends or future-proof its fossil fuel assets. If it had instead been tied to specific renewable projects — a "green hybrid capital" issuance in the mould of Ørsted, that surely would have been more in keeping with its mission to honour the Paris Agreement.
As it stands, equity holders will bear all the risk of BP's transition strategy for now. But if the firm is serious about going all-in on a clean energy transition — surely debt holders will have to play their part at some point.
---
Thanks for reading! Why not share this post with your colleagues?
Please send questions, feedback and more to louie.woodall@gmail.com
You can catch climate risk management updates daily on LinkedIn
The views and opinions expressed in this article are those of the author alone
All images under free media license through Canva