Weekly round-up: October 26-30
The top five climate risk stories this week
Climate Risk Review's Monday newsletter, and Wednesday's 'Inside Climate Disclosures' series, are for paying subscribers only. This week, how an absence of climate-related data for small- and medium-sized businesses could undermine climate risk management, and an analysis of Traveler's TCFD disclosure. You can upgrade your subscription here:
---
1) Banks shirking on climate disclosure — TCFD
Banks that produced climate-related disclosures in 2019 fulfilled less than one-quarter of the recommended reporting criteria, ranking in the bottom half of industry sectors.
The Task Force on Climate-related Financial Disclosures (TCFD), backed by standard-setter the Financial Stability Board (FSB), issued its third status report on the progress made by reporting companies on October 29.
It included the findings of an AI review of the 2017, 2018, and 2019 disclosures made by TCFD signatories. Across 236 bank disclosures published in 2019, the average percentage of disclosure was 23%. Banking was fifth-placed out of eight industry sectors assessed. The review also found that banks had the lowest percentage of disclosure for climate-related targets of all industries across the years 2017 to 2019.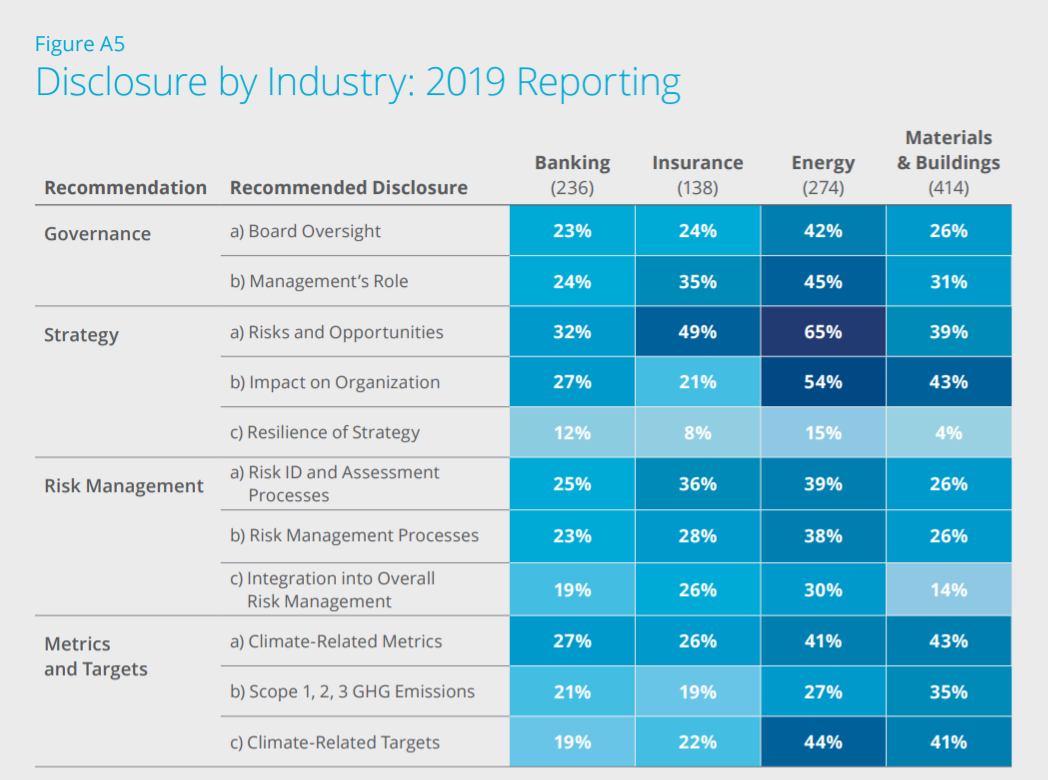 The TCFD assessed 17,300 reports from 1,701 TCFD-aligned companies to find out whether they contained information "that appeared to align with one or more of the Task Force's 11 recommended disclosures". The assessment did not assess the quality of companies' disclosures.
Recommendations are grouped across four categories: governance, strategy, risk management and metrics and targets. Banks disclosed least on the resilience of their business strategy to climate-related risks and opportunities. Just 12% of banks produced information related to this.
An AI study of 289 bank disclosures published from 2017 to 2019 showed that for eight of the 11 TCFD recommendations, the share of banks publicising relevant information was below average. Though the overall disclosure percentage was low, the number of banks sampled was more than double that covered by the 2019 review, when only 104 reports were assessed.
Of 138 insurance TCFD reports covered, the average disclosure percentage was 27%. Energy companies' reports disclosed the most, fulfilling 40% of recommendations on average. Technology and media companies revealed least, managing just 13% of recommendations.
2) New York regulator tells banks to tackle climate risks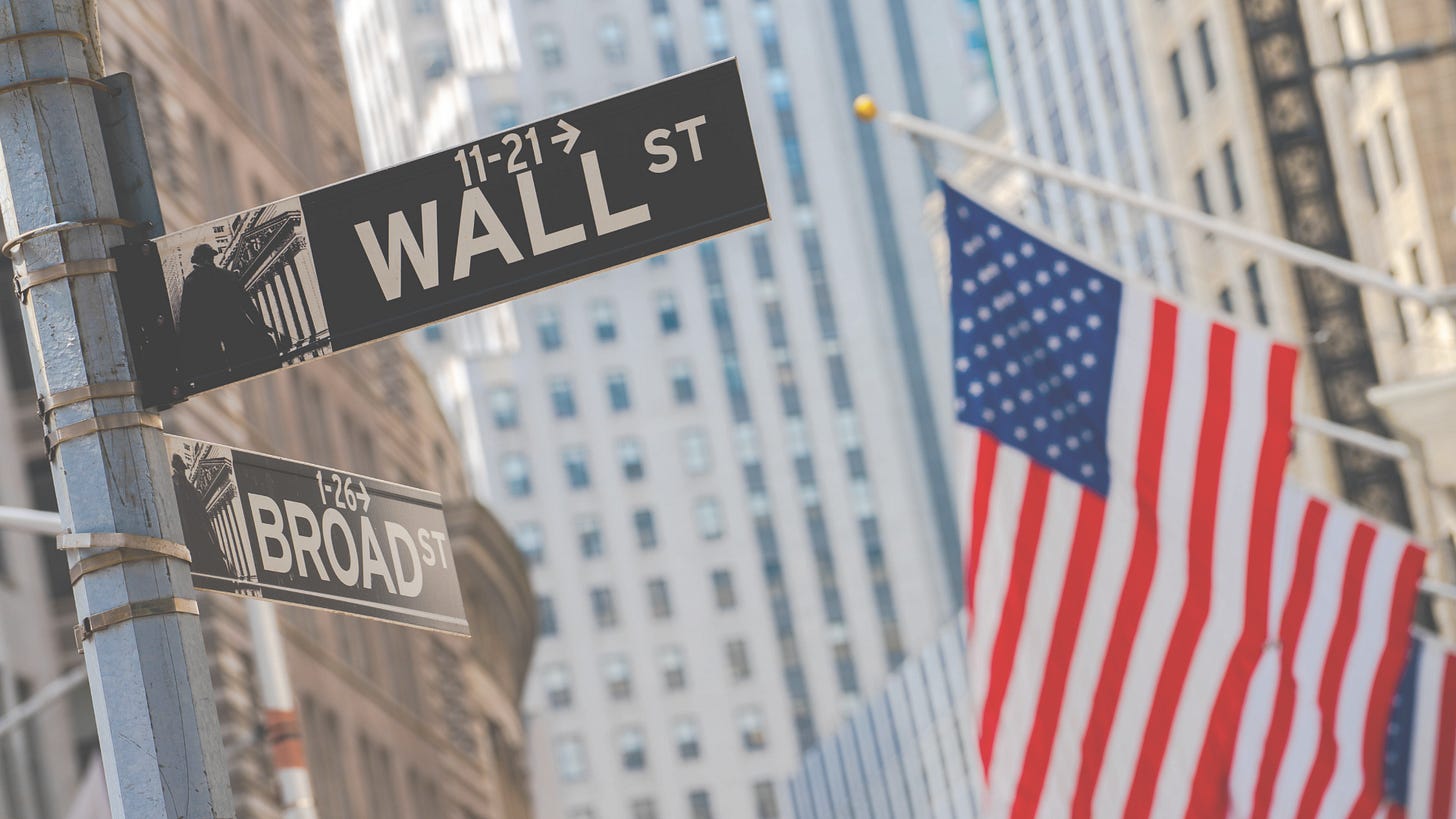 Banks in New York should consider the financial risks from climate change in their governance, risk management and business strategies, the state watchdog has said.
Linda Lacewell, superintendent of the New York Department of Financial Services (NYDFS) issued a letter to regulated financial institutions on October 29 with specific climate-related expectations.
Firms should assign a board member or committee, plus a senior manager, with responsibility for the assessment and management of the financial risks from climate change, the letter says. These officials should then conduct a firm-wide sweep to judge the impact of climate change on established risk factors — including credit risk, market risk, liquidity risk, operational risk, reputational risk, and strategy risk — and start drafting climate-related financial disclosures in line with TCFD recommendations.
Lacewell added that NYDFS is working on including climate-related risks in its supervisory mandate and developing "guidance and best practices" to help banks mitigate their exposures.
NYDFS supervises around 1,500 financial institutions with assets of more than $2.6 trillion. These include six bank holdings companies — such as Buffalo-based M&T Bank, which has over $139 billion in assets — and 41 state-chartered banks, including Goldman Sachs Bank USA, the Wall Street giant's consumer unit. It also oversees 75 branches of foreign banks, including those of Banco Santander, Barclays, BNP Paribas and Deutsche Bank.
Earlier this year, Lacewell and the NYDFS laid out similar climate expectations for insurers under their watch.
3) Climate stress tests may prompt data standardisation — Fitch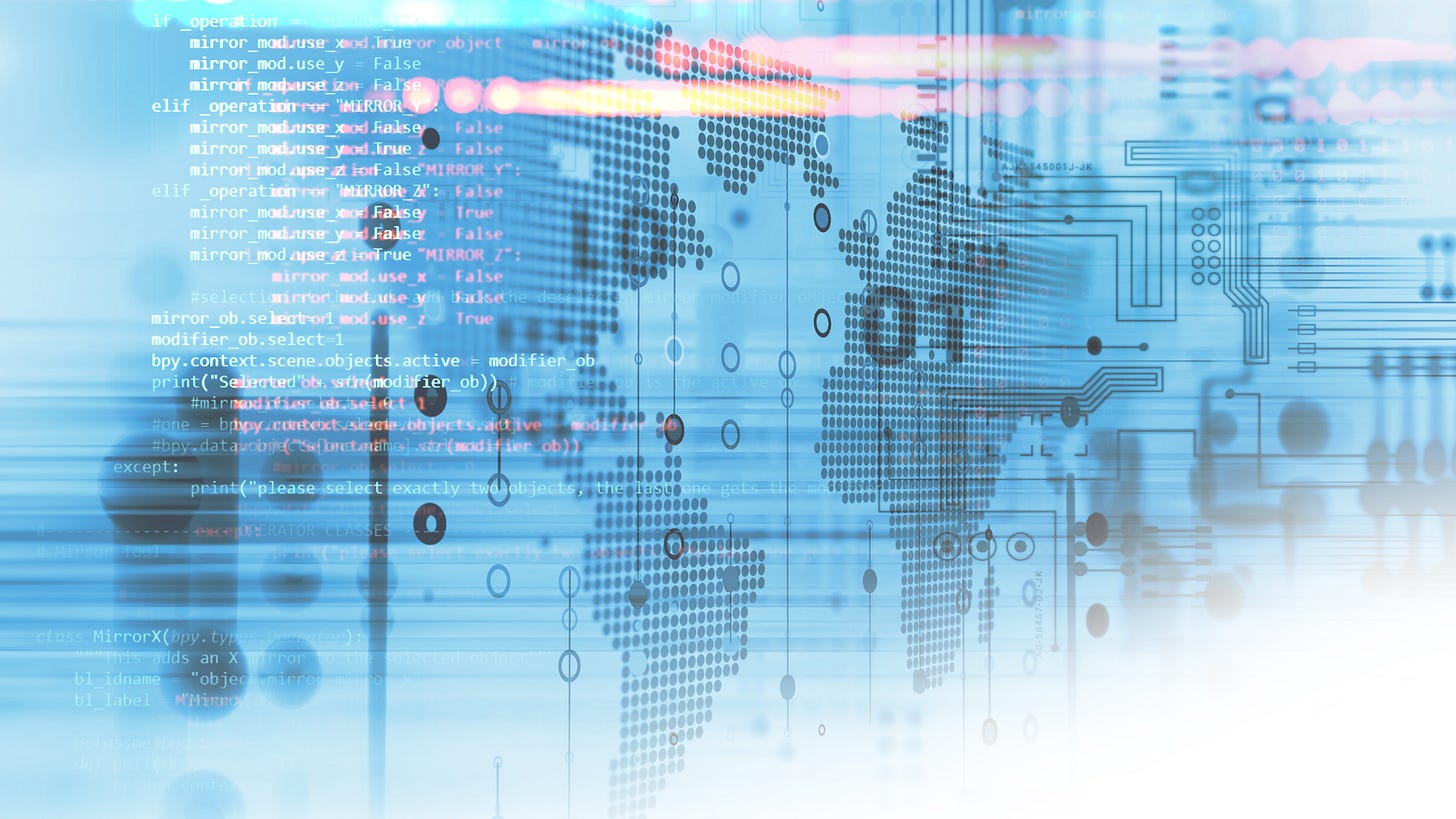 Bank stress tests could foster more uniform climate risk data, a report by ratings agency Fitch says.
Financial watchdogs including the Bank of England, France's ACPR and Japan's FSA have all said they will gauge their supervisees' resilience to climate scenarios in the near future. Fitch says the need to complete these tests will prompt banks to "gather climate data in a more standardised manner".
The lack of data harmonisation right now, though, means the industry could struggle to produce useful outputs from these supervisory exercises.
"Had standardisation of climate-related reporting metrics already been in place, banks would likely have had a head start in collecting relevant data throughout their business chains and been better placed to respond to regulatory requests," the report states.
Banks would be aided in their data efforts "if a common sustainability standard were in place, ideally under the guise of a single authority or industry body", Fitch added. Recently, five accounting standard-setters teamed up in an effort to harmonise sustainability reporting. Separately, the IFRS Foundation launched a consultation asking members about demand for global sustainability accounting standards and whether it should help develop these. Asset manager BlackRock has also called for a "globally recognised sustainability reporting framework and set of standards".
4) Top Aussie bank to stop financing coal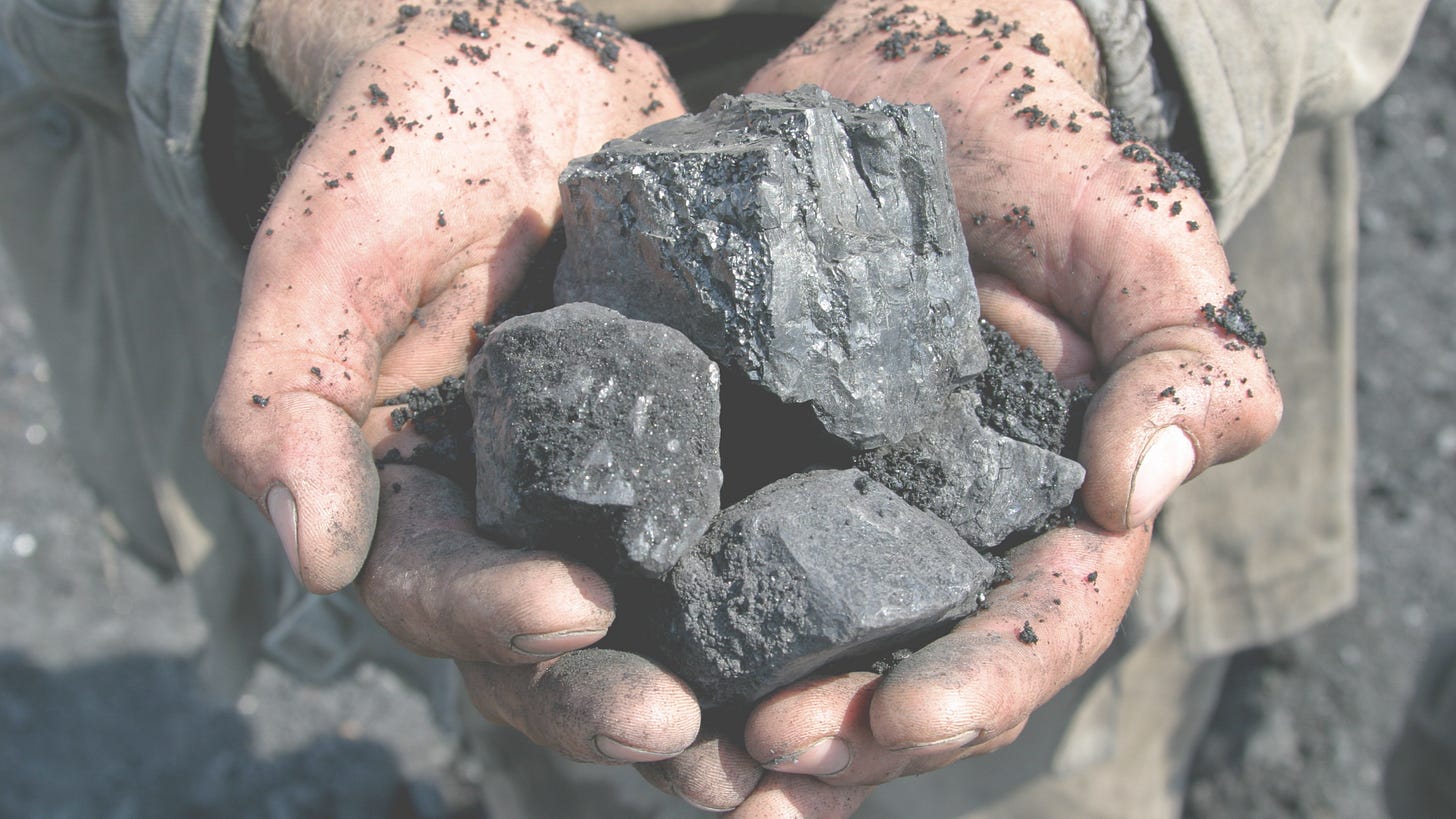 ANZ Bank joined Australia's other Big Four lenders in pledging to phase out its funding of thermal coal.
The bank, Australia's largest in 2019 with assets of A$981 billion, said it will no longer directly finance any new coal-fired power plants or thermal coal mines from 2030. As of now, it will also not take on any new customers with thermal coal exposures that exceed 10% of their revenues. Current customers with more than 50% of their earnings coming from coal will be asked for "specific, time bound and public diversification strategies".
In 2019, ANZ had A$1.5 billion of thermal coal exposures, up from A$1.1 billion in 2017.
The coal pledge is part of the lender's commitment to supporting the transition to a net zero economy by 2050. ANZ said it would engage with its largest emitting customers, including oil and gas giants, to support their decarbonisation efforts. The bank also promised to publish "more robust and credible metrics" on its financed emissions.
Speaking on a call to present the firm's annual results on October 29, chief executive officer Shayne Elliott said: "The measures announced today focused on supporting large institutional customers across all sectors and their transition to a low-carbon business. I'm proud of the new policy, and we've been having very constructive conversations with our customers."
5) RBNZ to tackle financed emissions
New Zealand's central bank is working to decarbonise its reserves portfolio as part of its effort to incorporate climate change management throughout its activities.
At the Pacific Climate Change Conference on October 28, Adrian Orr, governor of the Reserve Bank of New Zealand (RBNZ), laid out the agency's approach to addressing global warming. A central plank of the strategy is sorting out its own carbon emissions.
"We are getting our own house in order. This month we reported our verified carbon footprint for the first time in our annual report. This covers our direct emissions. We are now working on an emissions reduction plan, including reviewing our reserves portfolio," said Orr.
RBNZ produced 3.4 tonnes of direct carbon emissions in 2019. This does not include those financed through its investment portfolio, however, which could dwarf all other kinds of emissions. The bank said in its annual report that it would "work to refine data on our investments" with the intention of including financed emissions in future carbon-related disclosures.
Earlier this year, the Bank of England produced its own TCFD-aligned climate report, including an estimate of the emissions financed through its reserves portfolio.
Orr also said the RBNZ is "stepping up" supervision of banks' and insurers' climate-related risks and integrating these into its regulatory frameworks.
---
Thanks for reading! Why not share this post with your colleagues?
Please send questions, feedback and more to louie.woodall@climateriskreview.com
You can catch climate risk management updates daily on LinkedIn
The views and opinions expressed in this article are those of the author alone
Photo of Mark Carney under free media license through Wikimedia
All other images under free media license through Canva