Weekly round-up: October 5-9
The top five climate risk stories this week
Climate Risk Review's Monday newsletter, and Wednesday's 'Inside Climate Disclosures' series, are for paying subscribers only. This week, a close look into the field of climate scenario analysis and a review of Investec's TCFD disclosure. You can upgrade your subscription here:
---
1) Big oil's emissions data kept from investors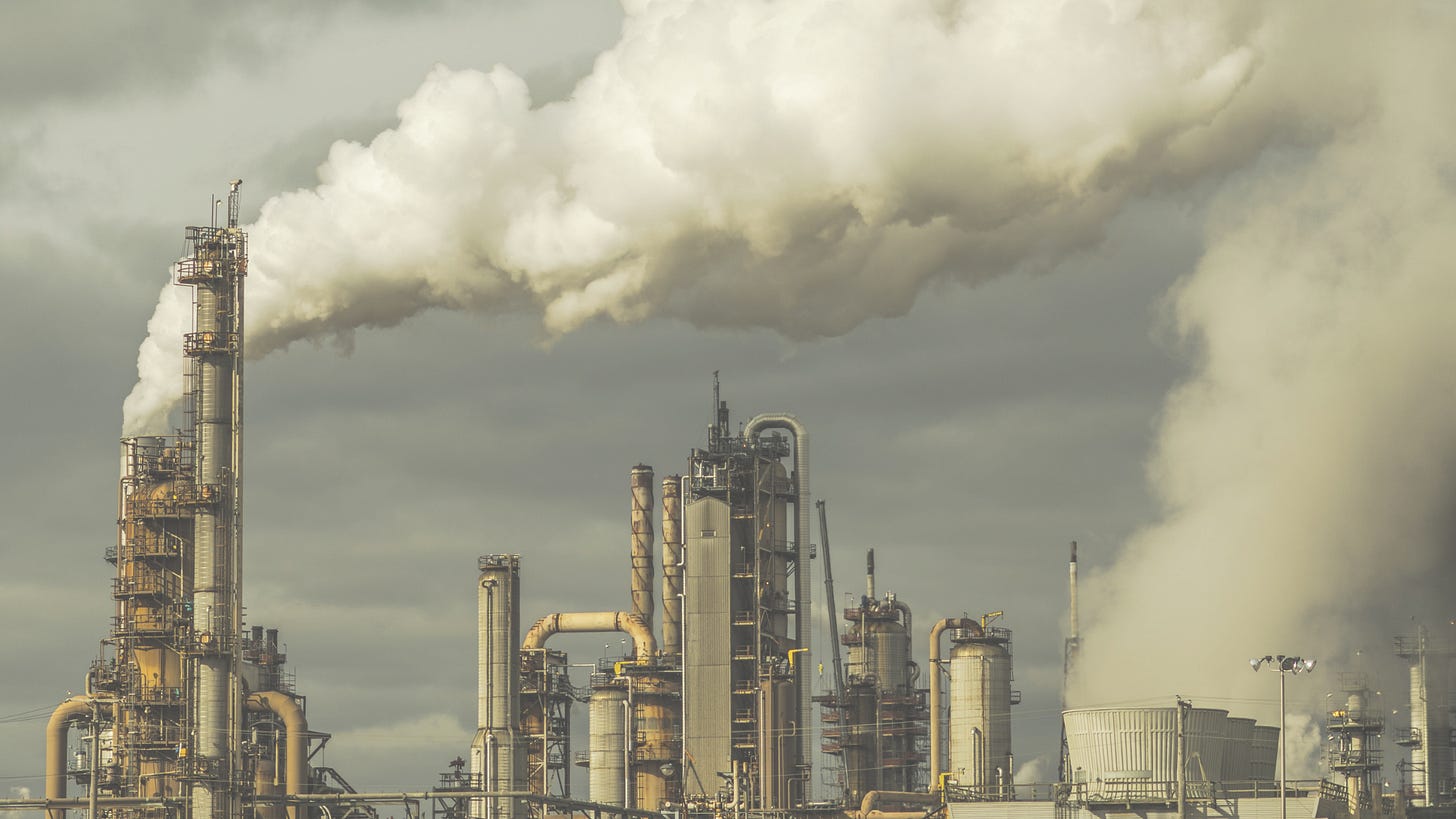 Internal documents analysed by Bloomberg show US oil major ExxonMobil produces forward-looking projections of its direct carbon emissions, raising questions as to why this data is not publicly disclosed to investors seeking to understand their climate risks.
The papers show that Exxon predicts its annual emissions will surge 17% on 2017 levels to 143 million tons by 2025, an increase as much as the output of the entire nation of Greece, Bloomberg says. This does not include its scope 3 emissions, those produced when customers burn the fuel it extracts and refines.
Exxon, in common with other top oil firms, does not disclose its forward-looking emissions projections, making it impossible for financiers to gauge their alignment with global climate targets, and hence their transition risk.
Still, independent experts have tried. Research published this week by the Transition Pathway Initiative (TPI) shows that not one out of 59 publicly-traded fossil fuel companies is on course with the Paris Agreement goal of capping global warming at 2°C. The group tested the 'carbon performance' of the firms by plotting their emissions pathways, extrapolated using public data, against three benchmark scenarios.
Of the firms assessed, seven (12%) have emissions targets that line up with their host nation's Paris Agreement pledges: Glencore, Anglo American, Shell, Repsol, Total, Eni and Equinor. Yet these pledges are deemed insufficient to keep warming below 2°C, analysis by the UN Environmental Programme shows.
2) JP Morgan, HSBC make carbon-reduction pledges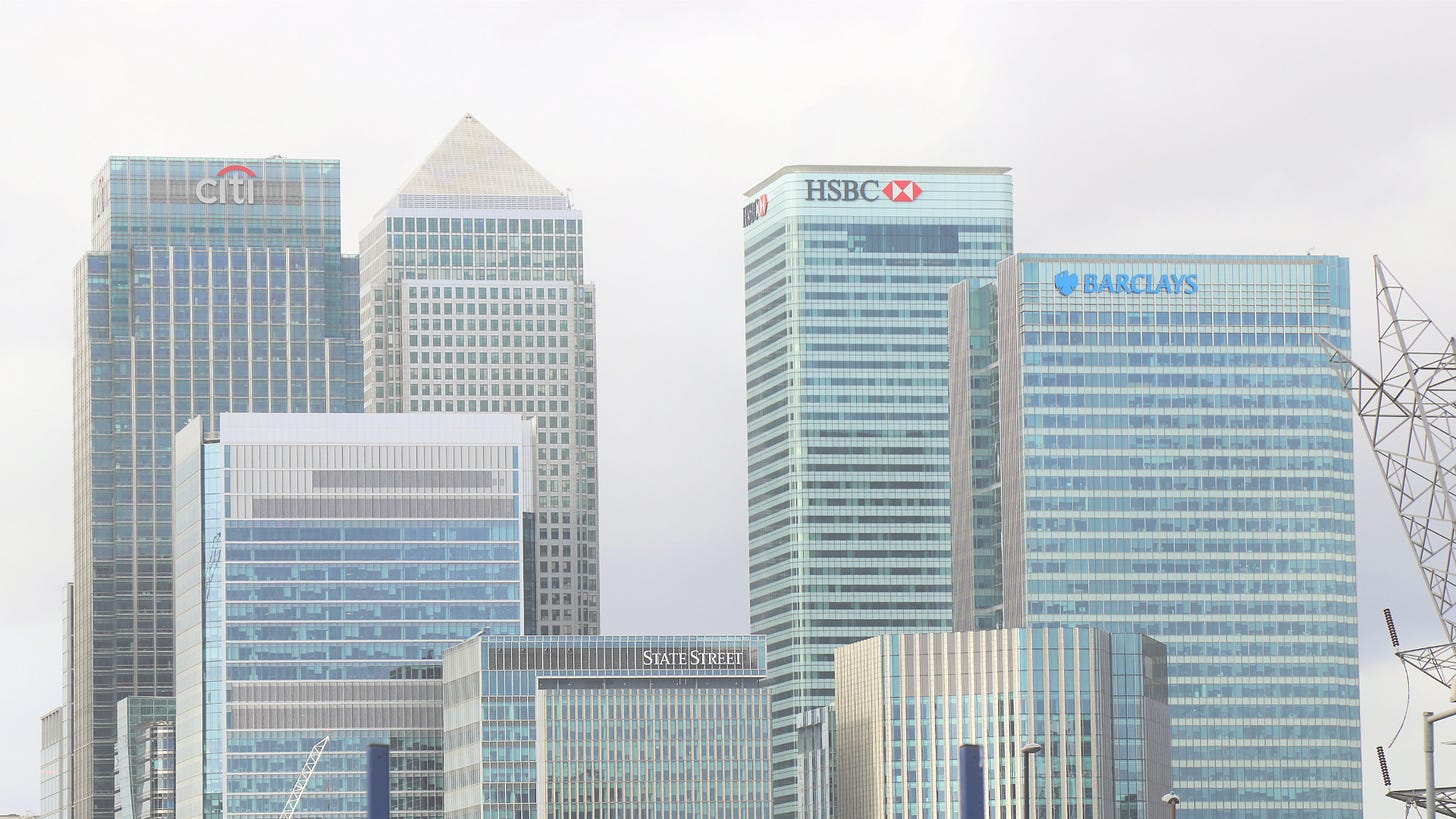 Banking titans JP Morgan and HSBC both promised to curb emissions financed by their lending and investing portfolios.
As part of its new commitment, JP Morgan — America's largest bank —  said it would align its financing with the goal of the Paris Agreement to cap global warming at 2°C. Its first step will be to set emission-reduction targets for 2030, focused on borrowers in the oil and gas, electric power and automotive manufacturing sectors. These targets will be unveiled in full in 2021. The firm will also produce its first report based on the recommendations of the Task Force on Climate-related Financial Disclosures (TCFD) next year.
HSBC also promised to align its financed emissions with Paris by prioritising investment "that contributes to the low carbon transition" and applying a "climate lens" to financing decisions. The UK bank did not promise to produce nearer-term emissions-reduction targets, but will use the Paris Agreement Capital Transition Assessment (PACTA) methodology developed by the The 2 Degrees Investing Initiative (2DII) to create "clear, measurable pathways to net zero [financed emissions]".
JP Morgan said it would use carbon intensity measures to track its clients' emissions. In addition, it will explore methods of evaluating scope 3 emissions "which are relevant for sectors where the majority of GHGs [greenhouse gases] are generated at other points in the supply chain". This implies the bank will factor in the emissions generated by clients' products when setting its financing targets. JP Morgan is not currently a member of the Partnership for Carbon Accounting Financials (PCAF), unlike Wall Street rivals Bank of America and Morgan Stanley, which is developing methodologies for measuring financed emissions.
JP Morgan also announced the launch of the Center for Carbon Transition for its corporate clients, which will provide access to "sustainability-focused financing, research and advisory solutions" and engage firms on carbon disclosures and long-term transition planning. This will be headed up by Rama Variankaval, who leads JP Morgan's Corporate Finance Advisory team.
Analysis by environmental group Rainforest Action Network shows JP Morgan is the largest financier of the fossil fuel industry, having loaned around $269 billion to the sector since 2015, when the Paris Agreement was signed. HSBC is twelfth, having extended $87 billion. Members of Stop the Money Pipeline, a coalition of climate activist groups, welcomed JP Morgan's pledge but said it had to take immediate action on its fossil fuel portfolio to honour its Paris commitment.
"The world's largest lender to the fossil fuel industry has clearly signaled that the fossil fuel game is coming to an end," said Alec Connon, the Stop the Money Pipeline Coalition Co-Coordinator. "However, if Chase is serious about its climate commitments, it'll need to quickly follow this up with policies that prohibit all lending to coal companies and companies still expanding fossil fuel production. 2050 vision is all well and good, but we need 2020 actions."
3) Climate risks climb ranking of threats facing businesses
Extreme weather events, natural catastrophes and biodiversity loss were all cited as rising global risks to doing business by top executives — all factors aggravated by climate change.
The World Economic Forum's (WEF) annual regional risks for doing business survey shows that all five environmental risks cited climbed the rankings year-on-year. 'Biodiversity loss and ecosystem collapse' came second overall — right behind 'spread of infectious diseases' — climbing eight places from 2019. 'Natural catastrophes' came third, 'extreme weather events' fifth, 'human made environmental catastrophes' eighth and 'failure of climate-change adaptation' ninth. 
Perception of these risks varied by region. In the US, only one environmental risk — 'natural catastrophes' — featured in the top five, in fourth place. In Japan, this claimed top spot, with 'extreme weather events' third.
In the UK, 'extreme weather events' ranked third and 'failure of climate adaptation' fifth. In China, 'natural catastrophes' polled fourth and 'human made environmental catastrophes' fifth. 
In contrast, none of these risks featured in the top five for Brazil, Russia or India. 
The WEF survey took place between January and July, and received 12,012 responses from business leaders across 127 countries.
4) Use climate scenarios for internal risk analysis, EU insurance rulemaker says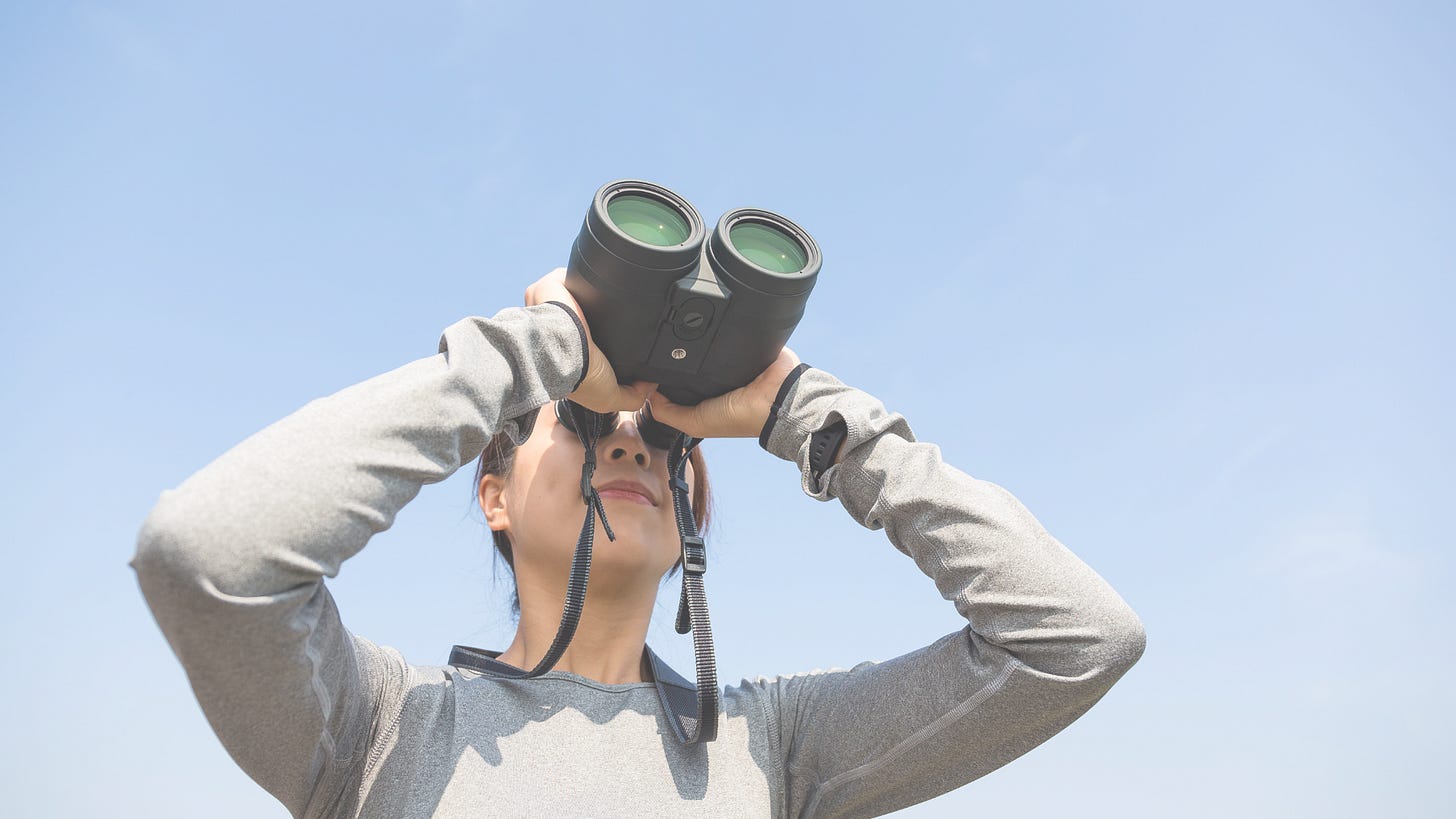 Insurers should use climate scenario analyses to inform their in-house risk checkups, a European Union watchdog recommends.
The European Insurance and Occupational Pensions Authority (Eiopa) published a consultation on how insurers should factor climate into their own risk and solvency assessments (ORSAs). These evaluations, mandated under EU rules, require insurers to weigh the amount of capital they need to weather threats over the long term and gauge the adequacy of their risk management processes.
A fact-finding study by the watchdog found that just 13% of ORSAs reference climate change risk scenarios at present. Of these, 58% were qualitative in nature, 20% quantitative and 22% contained both.
Eiopa's proposal says insurers should use scenario analysis to judge the long-term risks of climate change — over decades, if appropriate —  and use these findings to steer their strategic planning. In keeping with the European Commission's blueprint on non-financial reporting, the watchdog says insurers should be made to use at least two long-term scenarios for this purpose: one where global warming is capped at 2°C and a 'business as usual' simulation. Each scenario should cover "a sufficiently wide range of transition and physical risks, depending on the undertaking's exposure". Eiopa adds that insurers may develop their own scenarios, if able.  
The watchdog also says local authorities should push supervisees to make climate-related information public, and gather qualitative and quantitative data so they can perform appropriate supervisory reviews of the short- and long-term climate risks to insurers.
5) Dutch lender ING to cut oil and gas loans by €800 million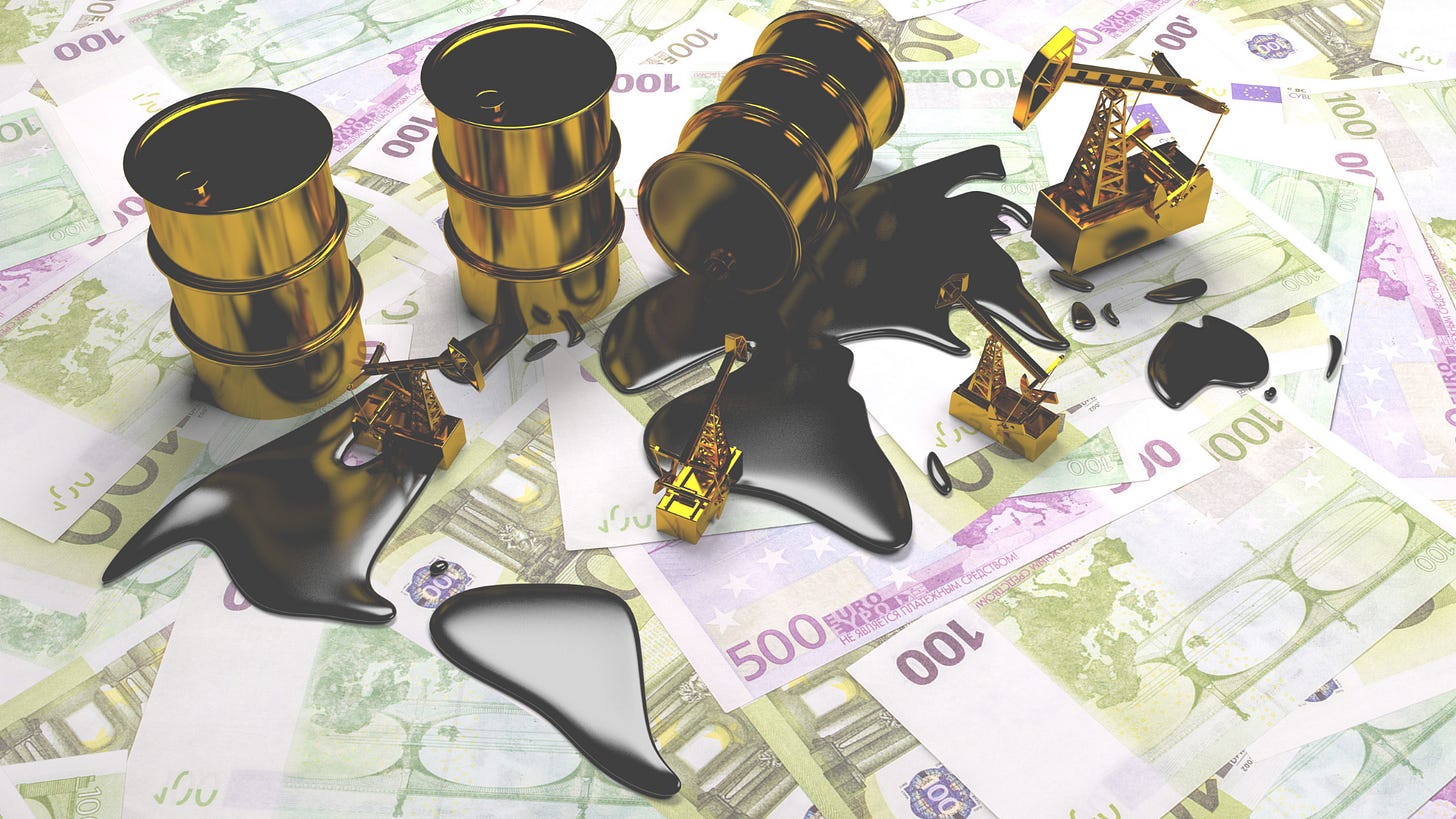 The Netherlands' sole global systemically important bank, ING, pledged to cut its exposure to oil and gas firms by almost one-fifth by 2040 as part of an update to its Paris Agreement-aligned financing strategy.
As of 2019, the bank had about €4 billion ($4.7 billion) of exposures to the upstream oil and gas sector. Hitting its target implies reducing this by some €800 million over the next 20 years. ING is committed through its 'Terra Approach' to steering its lending portfolio to match a well-below 2°C warming trajectory.
ING's goal was set by applying the output of the International Energy Association's Sustainable Development Scenario to a portfolio financing trend indicator cooked up by a clutch of climate-conscious banks and 2DII, the brains behind the PACTA methodology.
ING's strategy also requires it to tilt its portfolio towards fossil fuel firms transitioning to low-carbon energy production and those with the lowest emissions intensity.
The Terra Approach is focused on nine carbon-intensive portfolios: power generation, cement, steel, shipping, upstream oil and gas, commercial real estate, residential real estate, aviation and shipping. ING's analysis shows that the first four portfolios are currently aligned with the required decarbonisation pathways. Residential real estate, aviation and automotive portfolios are currently out-of-sync, and ING does not have data available on the remaining sectors' alignment as yet.
---
Thanks for reading! Why not share this post with your colleagues?
Please send questions, feedback and more to louie.woodall@climateriskreview.com
You can catch climate risk management updates daily on LinkedIn
The views and opinions expressed in this article are those of the author alone
All images under free media license through Canva